Christmas Gifts For Gerbils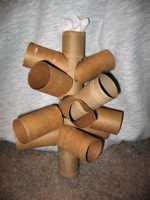 You can make a Christmas tree like this for your gerbils.
This year, give your gerbils a special gift for Christmas. We have two ideas that will make your gerbils' Christmas very merry.
Save Your Wrapping Paper Tubes
At this time of year, most of us wrap lots of presents, and we hit the end of our rolls of wrapping paper. Hang onto your empty wrapping paper tubes! They make great gifts for gerbils!
You can cut a wrapping paper tube into pieces that will fit in your gerbils' tank, and they'll have a lot of fun playing with them! You might even bend one or two pieces in half to make things a little bit more interesting for your gerbils.
Make A Christmas Tree
You can also make a special Christmas tree for your gerbils. To make the Christmas tree, you'll need several toilet paper tubes and a paper towel tube. You'll also need a pair of scissors. (Kids will need some help with this project.)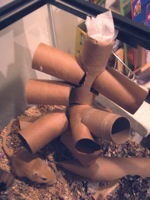 Ramona checks out the Christmas tree that we gave to her and her sister Audrey.
Cut several holes in the paper towel tube. Please be careful! Kids should have an adult cut these holes for them, because it's a bit tricky to poke the holes in the cardboard tube.
Next, cut a slit about 1 to 2 inches long in one end of each toilet paper tube.
Now, pinch the end of one of the tubes with the slit and then insert that end of the toilet paper tube into one of the holes that you cut in the paper towel tube. If you have trouble fitting the toilet paper tubes into the holes, you can use manila file folders instead of toilet paper tubes. Just rip each manila folder in half along the crease. Then rip each resulting piece in half again. You can then roll the manila sheets up tightly so that they're shaped like little tubes. You should be able to roll a manila sheet tight enough that it will fit into the holes you cut in the paper towel tube.
Repeat Step #3 to fill the rest of the holes that you cut.
If you want to leave extra treats for your gerbils, you can wad up some treats (such as Puffed Kashi or plain Cheerios) in plain white Kleenexes and insert them into the tubes that make the branches of the Christmas tree.
Finally, press the Christmas tree down into the bedding and watch your gerbils have fun! (Don't expect the tree to last long, though!)
What Will Your Gerbils Get For Christmas?
Will your gerbils get something different for Christmas this year? If you have a great gift idea for your gerbils, email us and let us know! We're always looking for new, fun gifts for gerbils!