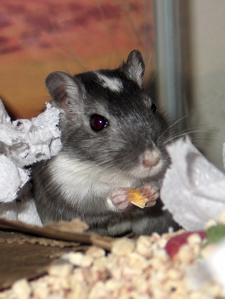 Welcome to Twin Squeaks Gerbils!
This is a site where both children and adults can learn about Mongolian gerbils, look at and share gerbil photos, find tips for keeping their pets healthy and tame, learn to make homemade gerbil toys, and even buy gerbil gifts for friends, family, or themselves.
Learn About Gerbils.
Gerbils make great pets for adults as well as for children. Almost all pet gerbils are Mongolian gerbils, which originate from the Mongolian desert. They are friendly, easy to care for, and because they are desert animals, do not drink as much as other rodents and therefore do not create as much waste. Gerbils' homes do not smell as most other rodents' homes do.
We've included plenty of resources ideal for the adult gerbil owner, such as the Guide To Gerbils and Gerbil Tips for help raising happy, healthy, and tame gerbils. And we've also set aside a special section of our site called Gerbil Kids, where kids can learn about gerbils, print coloring pages, and find fun and safe Games to play with their gerbils.
Our Site & Gerbils.
You can find the latest additions to our Web site, the latest stories about our own gerbils, and links to news articles about gerbils on our Twin Squeaks Gerbils Blog. And finally, you can read our gerbils' biographies and view photos of our gerbils here at Twin Squeaks.
Participate!
There are several ways to get involved at Twin Squeaks. You can mail us your favorite photo of your gerbils and see if we choose it for our Gerbil Photo Of The Week. You can also leave comments on our blog.
You can also get involved by going to one of the American Gerbil Society's gerbil shows. Click the banner below to find out more about the next upcoming gerbil show!